About Mohammed Abdel Aal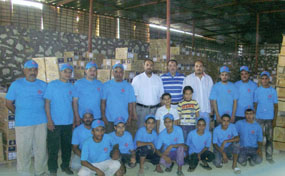 Mohammed Abdel Aal Import & Export was founded in 2000 in the field of fire lines ,gas and oil and air comailinimg .
Since its in cetpion , the company has negotiated partnership with biggest company in this field and we agent for malleabeiron pipe fitting from Thailand .
We import allmost item in the field like : Seamless fitting ,Ttu China , pipe from Russia , Ukraine and valves from Thailand .
New our company has considered one of the biggest company which has become leader in the field of import and export in Egypt .

And now we also big company for market our items we import. What has made the company have full success are the stuff we have in the workshop and sales .

General Manager
Mohamed Abd El aal
Marketing and Public Relations Manager
kareem Ibrahim